NEWS ABOUT ACTUAL FETISH PORN MOVIES. Hope you enjoy the movies. 🙂 Happy wanking!
---
[columns] [span6]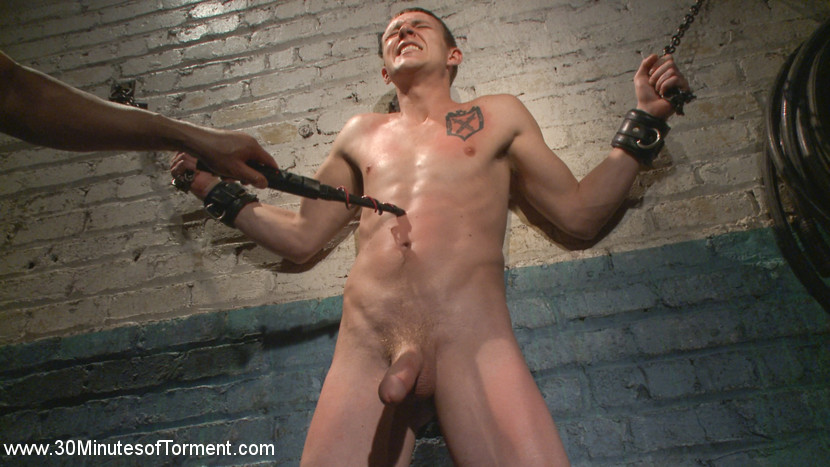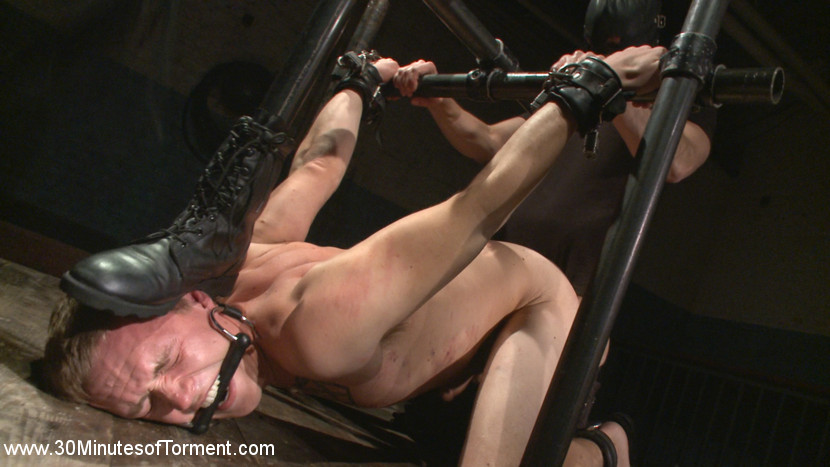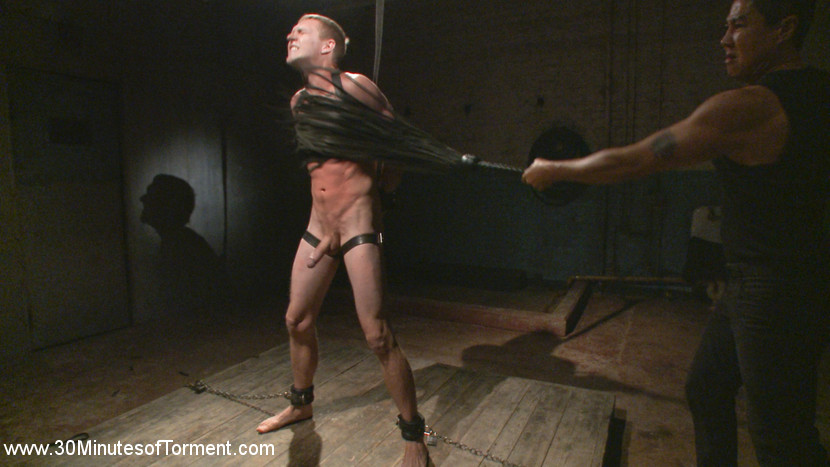 [/span6][span6]
sadOsam: We start today with the new 30 minutes of torment scene from kink.com. I think most of you know, that there you can see really hard action and a real suffering victime. Enjoy 30 minutes of hard action, a suffering and crying guy in different positions.
---
Click the Banner to see more:
[adrotate banner="29″]
---
Straight Southern Boy Endures a Hard Beating & Humiliating Ass Fuck
30 Minutes of Torment returns in full sadistic flourish with straight stud Zane Anders.
THE WALL: Locking Zane to the wall at at his ankles, Van nevertheless puts Zane's fate in his own hands. He'll have to hold tight to chains while taking a brutal beatdown, shocking and cropping. If he lets go from the pain and torment, his ass is toast.
THE PIT: Zane has his balls squeezed into a parachute tightly anchored to the platform. He must stand perfectly straight as Van unleashes a flurry of hits from the flogger or face double the pain as the parachute pulls to the ground. Van generously lines Zane's chest in clothespins before making the stud endure the two-handed flogger.
THE GIMP STATION: Zane finds himself rigged face-down, ass-up to rigid pipes, with a boot clamping his face to the platform. Van stripes Zane's ass and feet red with a cane before the gimp comes to plow his straight ass. As the gimp pumps away, Van torments Zane with his flogger. After the gimp glazes Zane's ass in cum, Zane gets flipped onto his back and must get hard while Van tramples and flogs his body. All challenges met, Zane finally blows his load.
[/span6][/columns]
---
[columns] [span6]
sadOsam: The new boynapped scene is showing Titus Snow using and abusing a new slave. The slave enjoys a treatment with hot wax, spanking, fingering, fucking and more. Not really hard, but it is allways a pleasure to see bounded boys suffering and be used.
---
Click the Banner to see more:
[adrotate banner="30″]
---
Titus Claims His First Fuck Slave
<
p style="text-align: justify;">Tied to pallets and with his legs in the air, Sean's hole is at the perfect height for kinky new boy Titus to enjoy. The boy has clearly learned a few things about anticipation though, because he spends a lot of time exploring his new slaves body, wanking and sucking his cock, splashing hot wax over him! Fingering his hole and loosening him up he slides his dick in and gives Sean a powerful fucking, jacking him off and making him cum before pulling out and erupting his cum over him! And of course, more wax needs to be dripped before he leaves Sean to stew in their juices.
[/span6][span6]
[/span6][/columns]
---
[columns] [span6]
[/span6][span6]
sadOsam: This is a new scene for our water sports lovers. A young group is giving his full load and Noah Brooks knows hot to enjoy it.
---
Click the Banner to see more:
[adrotate banner="25″]
---
Noah Brooks DRENCHED- 5 Guy Piss Orgy
Piss whore Noah Brooks literally gets DRENCHED in gallons of piss from 5 hotties and then is so worked up he needs a hard deep fucking! Austin walks in to take the challenge and pounds the hell out of piss bitch Noah! After Austin and Noah blow their loads the others return to spray Noah in even more hot piss.
[/span6][/columns]
---
[columns] [span6]
sadOsam: It's not really a hard movie … but if you love young sexy boys in sportswear having kinky action, than you will be happy with this movie. It's a pity that Jaro Stone is not involved in harder action 🙂
---
Click the Banner to see more:
[adrotate banner="28″]
---
Horny Newcomer Gets A Kinky, Spunky Locker-Room Initiation
Titus Snow might not be any good at football, but one thing he doesn't have the slightest bit of difficulty in is letting Jaro Stone know just how sexy he finds the fellow after the two lads return to the changing-room at the end of a match. Of course, how anyone could ever find Stone anything other than fucking drop-dead gorgeous is something that no-one associated with STAXUS could ever hope to understand; and dressed up in his football kit the young beauty is quite simply even more stunning than usual!
Certainly young Snow shows no quiver of hesitation whatsoever in sucking on his pal's nipples and reaching into his jockstrap – a move that immediately draws a very favourable response from the ever-horny Stone, who's soon slurping on his team-mate's shaft and then using his soccer-boot to stimulate Snow even further. Indeed, this rather kinky aspect to proceedings continues once Snow has had chance to feast on Stone's dick in return; with Stone using his feet (still donning football socks!) to first wank his pal's shaft and then rub against his arse.
Little wonder that young Snow is so eager to raise his legs in the air to underline his availability; with Stone then licking his boots, then rimming his tight, inexperienced hole. It's almost enough to get even the most seasoned viewer to the point of no return; and needless to say matters only intensify even further when Stone finally asserts his position as lead-role by ploughing the newcomer's pucker with characteristic gusto. All of which soon results in both boys splattering each other's faces with creamy goo!
[/span6][span6]
[/span6][/columns]
---
[columns] [span6]
[/span6][span6]
sadOsam: Do you like Daddy-Boy-Action? Than you should watch this movie here. Eurocreme is showing a new movie in which the boy know, why he has to be nice to the station master. Hope both have enjoyed it 🙂
---
Click the Banner to see more:
[adrotate banner="20″]
---
Getting Off
Caught after his first offence and hauled up before the station master, blond twink Lyle Boyce is given two options, a night in the cells with whoever may be there waiting for him, or do the officer a favour and get home to mummy. Shaken and nervous, super lad Lyle chooses the least worst option and plumps to give the Officer Daddy what he's asking for. Pulled up on the desk, Big T lives up to his name, tall, built and the perfect daddy for Lyle to be taken by! His stiff thick dick shoved down throats and up his peachy white ass, Lyle is fucked hard, leaving paperwork on the floor and rocking the office as his pretty pink hole is plundered deeper and wider than ever before. Laying back and taking his punishment whilst Big T works up a sweat, both of them get off, Lyle more so as he quickly gathers his stuff and runs out, still dripping with daddy's hot spunk!
[/span6][/columns]
---
[columns] [span6]
sadOsam: The new Iron LockUp scene in which Mr. Kristopher is enjoying CBT and TT in chains. Not really my favourit scene.
---
Click the Banner to see more:
[adrotate banner="27″]
---
Mr. Kristofer is suffering
Mr. Kristofer, naked except for the sensory deprivation hood and restrictive cock cage gets chained up, nipples clamped as Sir starts to play with him. First Sir shocks him with the nerve stimulator and then he is subjected to tugging on his now sensitive nipples. Sir finishes by attacking his balls, leaving Mr. Kristofer to choose between the pain in his balls and the pain in his nipples.
[/span6][span6]
[/span6][/columns]
---
[columns] [span6]
[/span6][span6]
sadOsam: Last but not least a movie for our kinky bear lovers. Do you like to see real bears serving a master? Than you'll really like this bear films movie.
---
Click the Banner to see more:
[adrotate banner="26″]
---
A Bear Group serving Daddy Bear Tristan Riant
Thick-hung Daddy bear Tristan Riant is enjoying his role as club president of the Bear Riders, especially now that there are more sex slaves groveling for his cock than he knows what to do with. Any other man might be intimidated to have the likes of Buster Nasstee, Matthieu Angel, and Amir Badri all clamoring for cock but not Tristan. The bearded fucker knows how to handle pig whore sex slaves. The three cocksuckers all get a taste of Tristan, slobbering over his beercan meat before Amir and Matthieu, real-life boyfriends, splinter off on their own. Buster now has Daddy Tristan and his fat dick all to himself while beefy hairy muscle hunks Amir and Matthieu, wearing their harnesses, get their game on all over a pool table. But if you think this is the end, you're mistaken. Stay tuned for part two, jam-packed with hardcore anal action!
[/span6][/columns]
---
[columns] [span3]
more porn news
[/span3][span3]
Spanking by Sebastian
[/span3][span3]
Fisting by Axel Abysse
[/span3][span3]
Yoshi Kawasaki conquering Europe
[/span3][/columns]